Ross Valley School District
Where Community Inspires Unlimited Possibilities!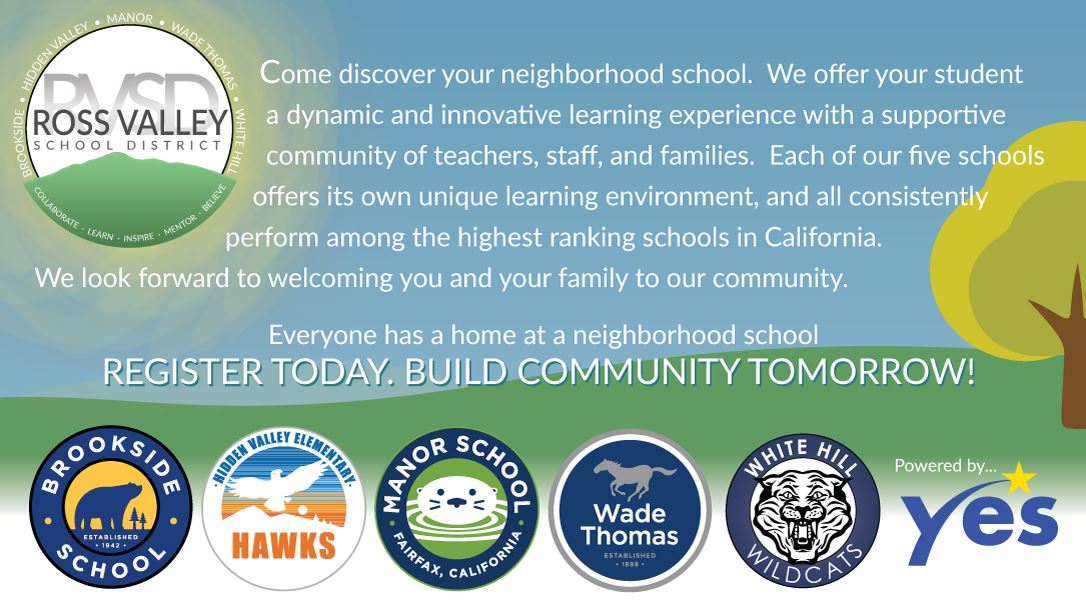 New Student Registration Information
2021-22 School Year begins August 18, 2021

We are very excited that all 5 of our schools will be fully reopened, including a return to school events and activities, in accordance with public health and safety guidelines and an emphasis on student academic, social-emotional, and mental health needs.

For families who are not yet ready to have their child/ren attend school in person, there will be an independent study option. As soon as details are finalized, enrolled parents/guardians will receive information and our website will be updated. For questions, please, contact Eric Saibel, Director of Student Services, at esaibel@rossvalleyschools.org.

The Marin County School Guidelines were released on August 4, 2021, and staff are in the process of unpacking the information and updating the site COVID School Plans (CSP). Information will be sent to enrolled parents/guardians the week of August 9, 2021. In the meantime, MHHS is requiring the following in all Marin County schools:

All students and staff are required to wear face coverings indoors and outdoors regardless of vaccination status

unless there is a medical or behavioral contraindication or exemption.

There are no distancing requirements.

All eligible students (ages 12 and older) and all staff are required to verify their vaccination status.

Please see the links below for more information:

*************************************************************************************

Dear Ross Valley Families,

Welcome to the Ross Valley School District! We are pleased you have chosen Ross Valley to provide your child/ren's education and where community inspires infinite possibilities.

This is the time of year when planning begins for the next school year. We are currently building our school-wide master schedules and staffing needs for next year, and we are planning for a return in the fall with full days of in-person classes. We will continue to work with our state and county public health officials to implement the most current guidelines. Our first day of school this fall is scheduled for Wednesday, August 18, 2021.

If you have a child currently attending school in the Ross Valley School District, there is no need to re-register him/her for a new school year. Only students who are not currently attending a school in the District are required to register.

Click below for more information about new student registration.