Ross Valley School District
Where Community Inspires Unlimited Possibilities!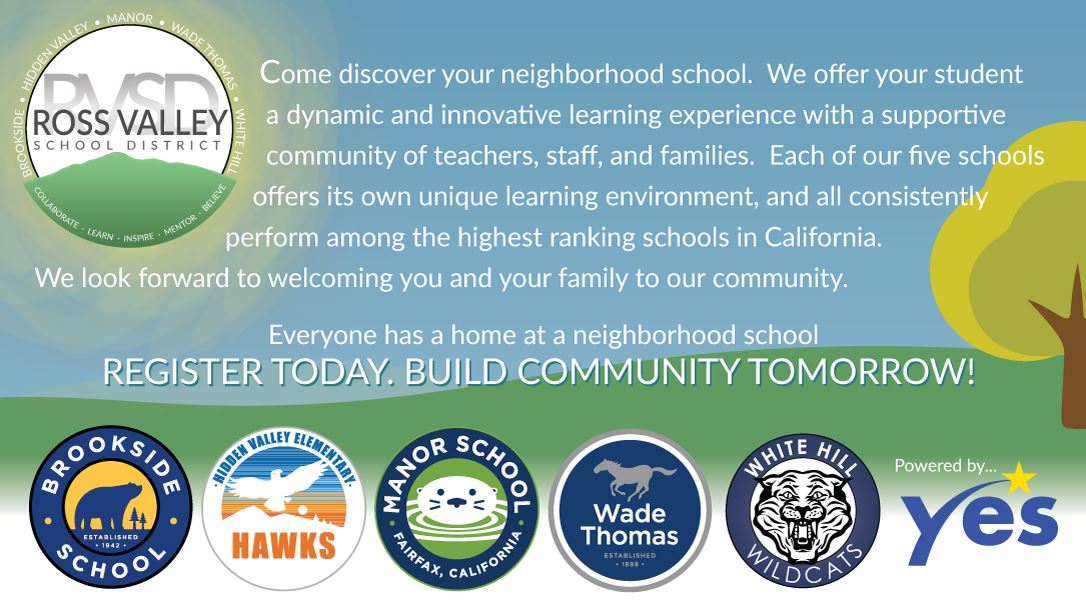 New Student Registration Information
Dear Ross Valley Families,

Welcome to the Ross Valley School District! We are pleased you have chosen Ross Valley to provide your child/ren's education and where community inspires infinite possibilities.

This is the time of year when planning begins for the next school year. We are currently building our school-wide master schedules and staffing needs for next year, and we are planning for a return in the fall with full days of in-person classes. We will continue to work with our state and county public health officials to implement the most current guidelines. Our first day of school this fall is scheduled for Wednesday, August 18, 2021.

SCHOOL OFFICES WILL BE CLOSED STARTING JUNE 21, 2021. WHITE HILL WILL RE-OPEN ON AUGUST 2ND AND ELEMENTARY SITES WILL RE-OPEN ON AUGUST 9TH, 2021.

SUMMER REGISTRATION AT THE DISTRICT OFFICE (100 SHAW DRIVE, SAN ANSELMO):

Monday, July 12; 9am-12pm
Wednesday, July 21; 1pm-4pm
Tuesday, August 3; 9am-12pm & 1pm-4pm
Wednesday, August 4; 9am-12pm & 1pm-4pm

If you have a child currently attending school in the Ross Valley School District, there is no need to re-register him/her for a new school year. Only students who are not currently attending a school in the District are required to register.

Click below for more information about new student registration.